Purnea University Part 3 Result 2022 – पूर्णिया विश्वविद्यालय ने स्नातक (बीए, बीकॉम और बीएससी) भाग 3 परिणाम 2022 का परिणाम घोषित कर दिया है। जो छात्र अपना परिणाम देखना चाहते हैं, उन्हें इस लेख को पूरा पढ़ना चाहिए।
Live Update – Purnea University Part 3 Result 2022 घोषित किया गया है। छात्र महत्वपूर्ण लिंक अनुभाग में नीचे दिए गए लिंक द्वारा अपना परिणाम देख सकते हैं।
Purnea University Part 3 Result 2022 Declared – BA, B.Com & B.Sc Result
| | |
| --- | --- |
| Article | Purnea University Part 3 Result 2022 |
| Category | Result |
| Authority | Purnea University |
| Course | BA, B.Com & B.Sc |
| Session | 2018-21 |
| Part 3 Result Status | Declared |
| Official Website | purneauniversity.ac.in |
Purnea University Part 3 Result 2022 Date
पूर्णिया विश्वविद्यालय ने बैचलर ऑफ कॉमर्स (बीकॉम) भाग 3 परिणाम सत्र 2018-21 घोषित कर दिया है। जो छात्र परीक्षा में शामिल हुए थे, वे अब आधिकारिक वेबसाइट से अपना परिणाम देख सकते हैं। विश्वविद्यालय बहुत जल्द बीए और बीएससी के भाग 3 के परिणाम घोषित कर रहा है।
Important Date
| | |
| --- | --- |
| BA Part 3 Result | 15.05.2022 |
| B.Com Part 3 Result | 12.05.2022 |
| B.Sc Part 3 Result | 13.05.2022 |
How to Check Purnea University Part 3 Result?
Purnia University Part-3 के हमारे सभी मेधावी छात्र आसानी से अपना परिणाम देख सकते हैं और डाउनलोड कर सकते हैं, जिसकी पूरी ऑनलाइन प्रक्रिया इस प्रकार है –
Purnea University Part 3 Result 2022 को चेक  और डाउनलोड करने के लिए सबसे पहले आप सभी विद्यार्थियो को आघिकारीक वेबसाइट के Home Page  पर आना होगा जो इस प्रकार का होगा –
 Home Page पर आने के बाद आपको Purnea University Part 3 Result 2022 का Option  मिलेगा जिस पर आपको क्लिक करना होगा|
 अब आपके सामने इसका Login Page खुल जाएगा जहां पर आपको जानकारी भरकर पोर्टल पर Login करना होगा ,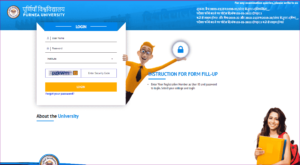 पोर्टल में Login करने के बाद आपका रिजल्ट आपके सामने दिखाया जाएगा जिसे आप आसानी से डाउनलोड और प्रिंट आदि कर सकते हैं।
अंत में, इस तरह, आप सभी छात्र आसानी से अपने परिणाम की जांच और डाउनलोड कर सकते हैं और इसका लाभ प्राप्त कर सकते हैं।
✅पूर्णिया विश्वविद्यालय के बारे में कुछ जानकारी :- 👇👇👇👇
Purnea University, Purnia which was carved out of Bhupendra Narayan Mandal University, Madhepura on 18th March 2018 by an act of Bihar Assembly which was notified in Bihar Gazette (Ashadharn) on 17th August 2016 under Bihar State University Act (BSU Act 1976) amended under section 3(1) of Bihar Act 23, 1976 and called the Bihar State Universities Amendment Act 13, 2016.
The nomenclature 'Purnea University' has sprung from the name of the Purnea district itself. Purnea University is formed to cater to the needs of higher education of Purnea Division spread over four districts namely Purnea, Araria, Kishanganj and Katihar. The university envisions to become a globally acclaimed academic and research institution that will inspire meaningful transformation to ensure holistic growth and development of the society. The mission of this university is to inculcate in the learners ethical, ecological and economic issues of knowledge, to provide knowledge-based scientific solutions to satisfy the needs of society and industry. The university is committed to be a world-class excellence in education in the coming years.
At present, University runs in the campus of Purnea College, Purnea but very soon it will have its own campus in which offices, residences, Sports & Cultural spaces, Academic & Administrative blocks, Conference Halls, Examinations Halls, Libraries, Laboratories, Gues Houses, University Health Care Centre, Hostels, Canteen, Yoga and Dhyan Kendra, Information and Communication System (ICS) cell, Training & Placement Cell, International Affairs Cell and all other basic amenities will be available.
Currently, Purnea is a centre of education in the north-east Bihar region. Purnea University comprises of 13 constituent colleges, 33 affiliated colleges including B.Ed, Engineering, Management and Medical institutions spread across Purnea Division.
If you have any query, then definitely tell us by commenting, below is the comment box, you can send us a message through it or you can also contact us through the contact page.
Important Links
FAQ's Purnea University Part 3 Result 2022
Q 1. पूर्णिया यूनिवर्सिटी यूजी पार्ट 3 का रिजल्ट कब घोषित होगा?
Ans:- उम्मीदवार 12.05.2022. से पूर्णिया विश्वविद्यालय तृतीय वर्ष के यूजी परिणाम की जांच कर सकते हैं|
Q 2. How to Check Purnea University Result Session 2018-21?
Ans:- Those students who appeared in the Undergraduate examination can check the result from the official website of Purnea University – www.purneauniversity.ac.in